Sulky, French manufacturer of fertiliser spreaders, is the market leader in the production of fertiliser spreaders and seed drills in France and is one of the top three producers in Europe. Established in 1936 the company is based near Rennes in the north west of France. To celebrate its 75th Anniversary and demonstrating a firm commitment to agriculture and the future of Sulky itself, the company commissioned a brand new state of the art factory on a green field site in July 2011.
Sulky has introduced a new generation of fertiliser spreaders designated the DX Series. This new range is designed to provide increased accuracy, higher capacity, more spreading widths and increased operator comfort, according to Sulky.
Hopper capacities are available from 900 Ltrs up to 3,000 Ltrs and spreading widths range from 9 meters up to 36 meters. Adjustments are made away from fertiliser and moving parts at the back of the spreader, by two simple and logical controls for setting the application rates and working widths (a Sulky patent).
Accuracy and consistency is guaranteed, according to Sulky, with full width overlap between inward and outward passes with high tolerance to setting errors, cross winds and low quality fertiliser (another Sulky patent).
A constant and consistent flow of fertiliser is assured irrespective of the weight of fertiliser in the hopper because the outlet shutters are located on the sloped wall of the hopper and the pulsating rate regulator, Sulky says.
All working parts are made from stainless steel and the one piece stainless steel hopper bottom (with no welds – exclusive to Sulky) provides constant delivery of fertiliser and total emptying of the hoppers. The heavy duty chassis is manufactured from high elasticity steel and features a high resistant paint finish. The gearbox carries a three-year manufacturers warranty.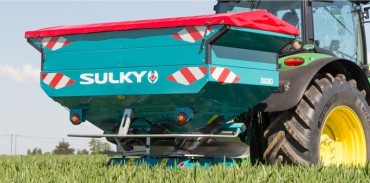 A full range of precision farming applications are catered for including border spreading controls, automatic calibration, weighing and application rate adjustments.
The new DX Series complements the established Sulky X Series with hopper capacities up to 4000 litres and spreading widths from 18-50ms. Sulky also offer a range of trailed fertiliser spreaders with hopper capacities up to 13,000 litres and spreading widths up to 50 metres.
Gary Brogan Tractor Sales are delighted to be agents for the famous Sulky fertiliser spreaders in Co Limerick. Call Gary Brogan Tractors at 069-78942 or 087-9750219 for more details and model availability.