The 6 Series features 3 models powered by four-cylinder turbo engines with common rail injection system.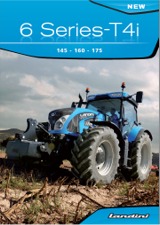 The Landini 6 Series differs from its bigger brother; the 7 T4i, with a shorter wheelbase and self-supporting engine. The biggest model; 6-175 is equipped with the Dual Power system to provide extra power for road and PTO applications.
Designed to replace the Alpine and Technofarm series with a single, more versatile range, the 4 Series fully revolutionizes Landini's low- and medium-power segment. The ZF Roboshift transmission provides 24 speeds in six ranges with four on-the-go powershifts, all controlled by a multi-function joystick on the drivers armrest.
Main Features
6-145 (143hp) 6-160 (160hp) 6-175 (175hp)* (* Dual Power)
4-Cylinder, Iveco NEF Turbo engine
Self-supporting engine & Compact wheelbase
Roboshift Transmission: 24F + 24R or 40F + 40R with Creeper
4 Speed PTO: 540/540E/1000/1000E
Closed-centre Hydraulics with 123 L/min flow rate
9,300kg Maximum Lift Capacity
Electronic Valves Flow & Timer
Front Axle Suspension & Cab Suspension
Headland Management & Engine Cruise Control